When we talk with couples who are struggling, we share with them our story.  We tell them that in order for our marriage to heal, it took time, we needed new ways of relating to one another.  We had to learn healthy communication and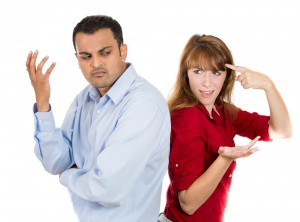 conflict-resolution skills, we both needed new attitudes toward each other and a strong personal relationship with Christ.  Most couples want their relationships to work, but they don't know how to do it.
God can heal broken relationships. But I was reminded this week, that divine healing isn't always permanent because people so often go back to their old styles of living – those old patterns emerge once again and put them back in the bondage of their pain and strife.
We can't ask God to heal us without being willing to do the hard work He requires.  For example, borrowing from Carl Brecheen and Paul Faulkner words from Scripture:
"Be humble and gentle. Arrogance has no place in relationships."
"Be patient.  Make every effort to keep the unity of the Spirit and the bond of peace."
"Put off the old person."  Be willing to dye to your own self – your old nature and put on a new nature.
"Tell the truth."
"In your anger. . .don't sin."
"Be a giver, not a taker."
"Get rid of all bitterness, rage and anger, brawling and slander, along with every form of malice."
"Be kind and compassionate to one another."
These are just a few things He may require.
Your marriage didn't get to this point overnight and it will not heal without a long-term commitment to change.
Grace and  peace,
Penny