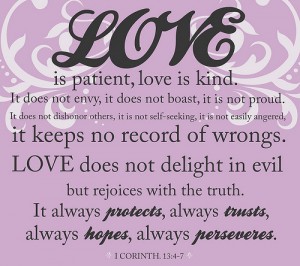 At a recent speaking engagement, we shared with our audience that some of the most eye-opening versus for us, when we first became Christians, were found in 1 Corinthians 13:4-7.  I think they were so magnified because our marriage wasn't doing too well at the time and if I compared what was going on in our relationship with what these versus were saying, we were doing a pretty lousy job of loving one another.  How about you?  Listen to what these Scriptures say:
"Love is patient, love is kind.  It does not envy, it does not boast, it is not proud.  It is not rude, it is not self-seeking, it is not easily angered, it keeps no record of wrongs.  Love does not delight in evil but rejoices with the truth.  It always protects, always trusts, always hopes, and always perseveres."
While these versus are often quoted at weddings and referred to as the love chapter, they should probably be mandatory reading, and reflection, on a regular basis to determine how well we are doing. Therefore, why not spend a few minutes reflecting on this portrayal of love in your life as you relate to your spouse.  Evaluate how you feel about how well you demonstrate these in your life to your spouse.  On a scale of 1 – 5, with a 1 being poor and 5 being excellent, how are you doing?  When finished, think and pray about those areas where you want to improve.